An immersive makeup launch experience
Group Project | 2 Weeks | Experiential Brand Activation
I was responsible for bringing the final concept to the team. We found our initial idea, a YouTube competition series, had been done previously. This forced us to push and develop a new execution. Inspired by makeup being a form of self expression and the unique, edgy Fenty Beauty product names, I began to explore
moods
. I wanted to find an interesting way to seamlessly introduce the excitement of mood rings through digital and physical spaces. Additionally, I worked on the UI to portray how the digital elements would come to life at the event.   
Skills Used
: Research, UX Strategy, Concept, UX/UI, Concept Testing
Tools Used
: Sketch, Invision, Pencil + Paper
Create an experience for Fenty Beauty applying principles of game design
Makeup culture has transformed over time.
Cosmetics lovers use makeup as an artistic medium to portray mood, culture, and  personality. Currently, customers have the freedom to build and personalize their makeup collection with preferred products from their favorite brands. However, with makeup being used as a form of self expression, Fenty Beauty has the opportunity to introduce personalization earlier in the user journey at the product creation level.
A personalized eyeshadow palette determined by your Instagram feed. 
Phase I: What's Your Mood
Guests will be prompted to type in their Instagram handle, bringing up their Instagram feed. An algorithm will scan each individual's feed to determine the three top most colors that best match the colors in the new Fenty Beauty Moody palette.
*Note: All color combinations are pre-assigned a mood name before time the day of the festival (three colors = a mood)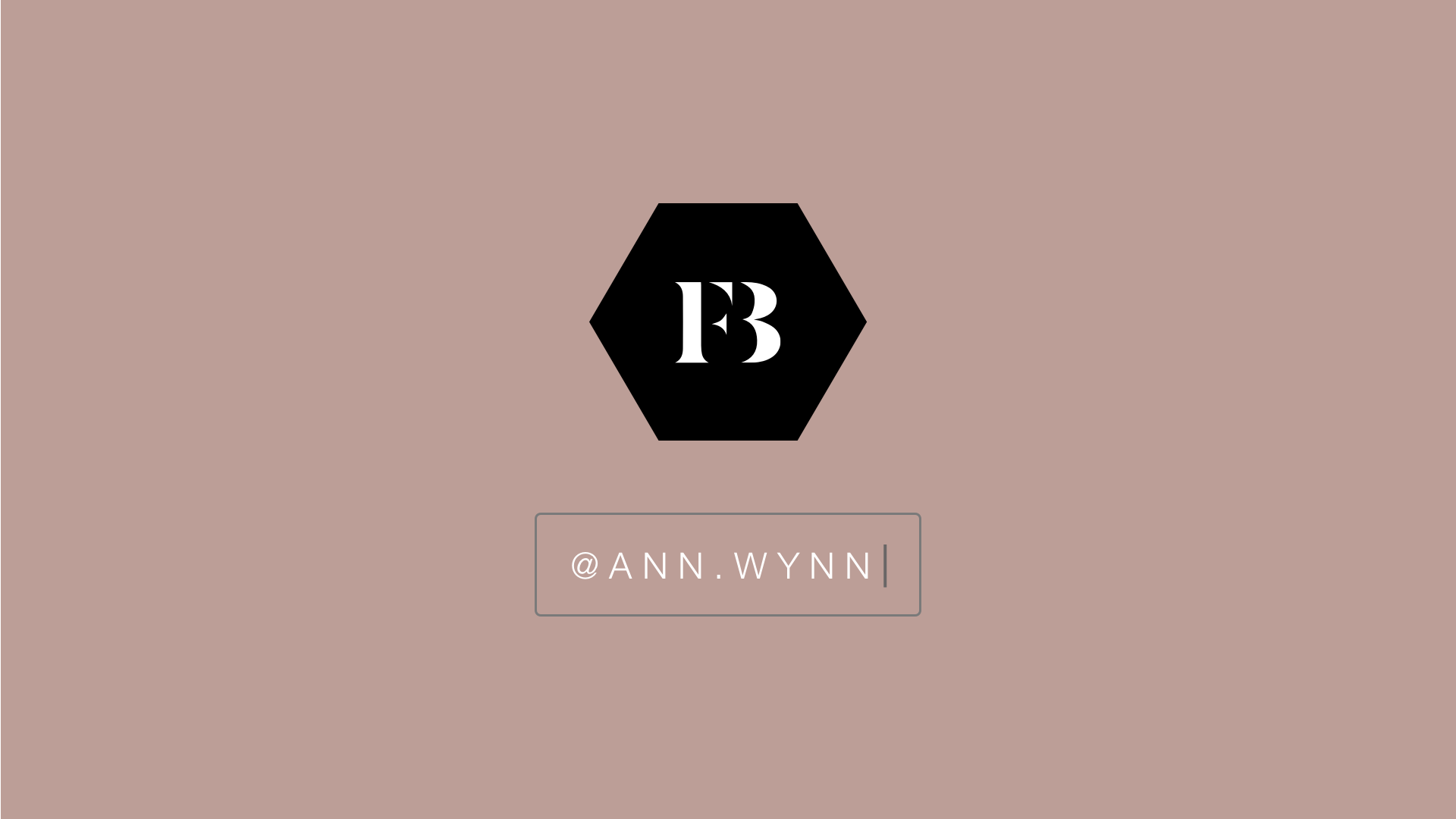 Phase II: Become One With Your Mood
Guests will move to the second phase of the brand activation where they will pick up their free personalized eyeshadow palettes and receive an "eye" look from a Fenty Beauty Consultant. The complete twelve colored Moody palette will be on sale at full price for guests to purchase as well.
In the final phase, guests will swipe to find the name of their "mood" on a digital wall. The wall will change to a mixture of the three colors in the guest's personalized eyeshadow palette. Guests will have the opportunity to take photos with the GIF photobooth. GIFs will be emailed to guests to be shared on social media platforms.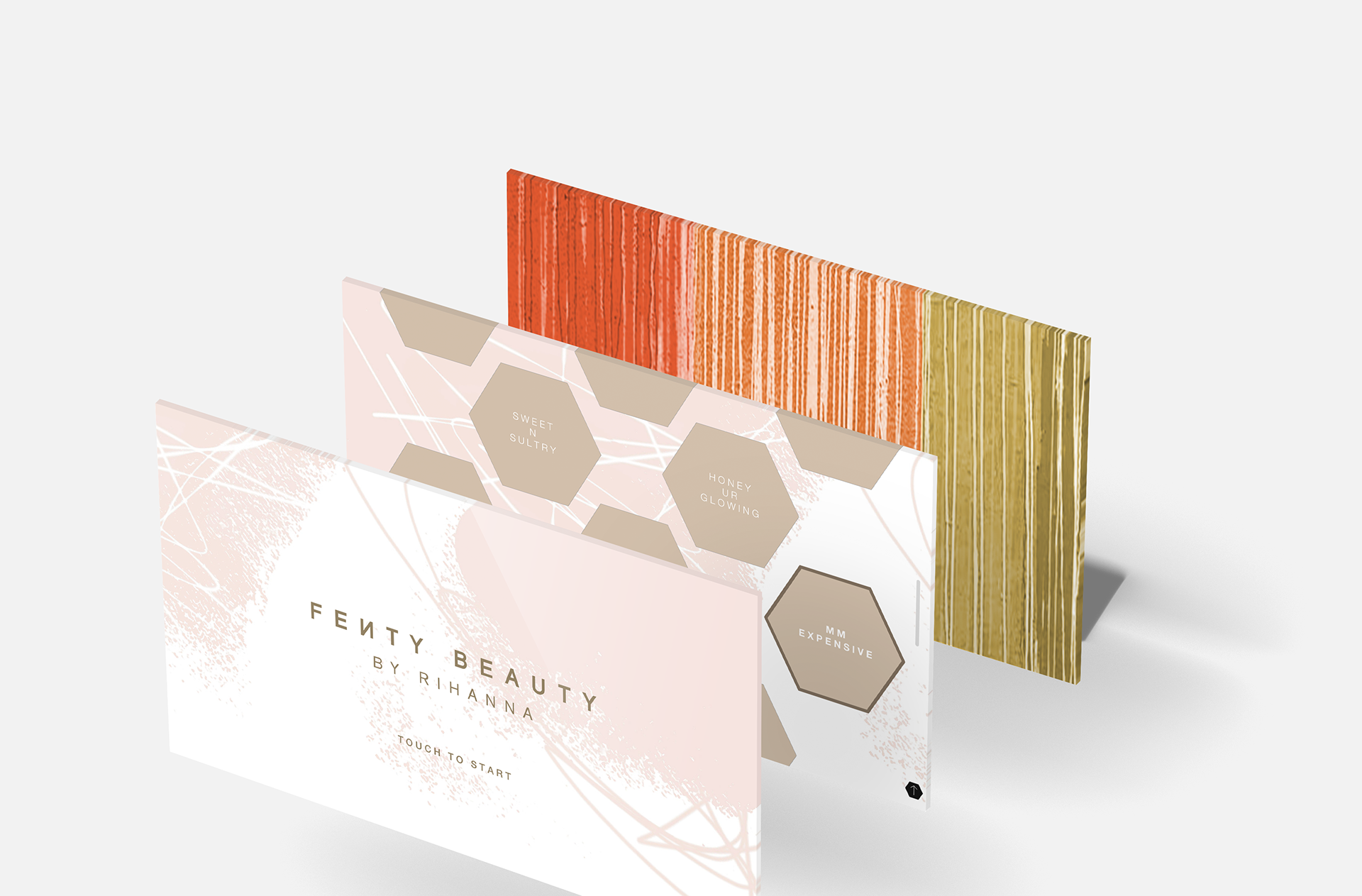 Beautycon serves as the premier beauty festival held in both New York and Los Angeles. Guests receive the opportunity to purchase products, watch live music performances, listen to industry speakers, and partake in brand installations. Of the top brands represented at the festival, Fenty Beauty was not a brand in attendance. As a result, we determined Beautycon to be the best platform to introduce our gaming concept, as it currently supports interactive and immersive experiences within the makeup industry. We will build out a hexagon shaped space as shown below to align with Fenty Beauty's brand standards and use of geometric shapes.
After arriving at an Immersive Product Launch, we explored two different mood detection iterations before landing on our final execution.
Digital Fenty Beauty Mood Rings
Idea
: Inspiration for the digital Fenty Beauty mood rings was inspired by the traditional 1970s novelty. Guests would come to the booth and place the ring on their finger. Product suggestions would be determined based on what colors showed up on the individual's ring.
Findings
: In studying how mood rings worked, we found the colors are determined by the user's body temperature through thermochromic liquid crystals. Therefore, simulating a digital mood ring based on body heat wouldn't accurately portray a user's mood in the way we envisioned. We wanted to find a method that was more personal.
Idea
: Guests would arrive at a digital wall and be prompted to type in their Instagram handle and place their hand on the wall repeatedly to determine their mood- similar to how Apple configures a user's touch ID. Unknowingly to the guest, the wall would send the Instagram handle to a Fenty Beauty Consultant's tablet. Consultants would scroll through the customer's Instagram feed and hand pick the three best eyeshadow colors based on their IG feed.

Findings
: While we were excited to introduce the hidden consultant element in this execution, we found it to be complex. With a large number of people navigating through our installation, we needed a more simple and efficient solution to allow for a faster flow.

Digital Instagram Algorithm
Idea:
Finally, we arrived at an Instagram algorithm that scanned individual's feeds to determine the top 3 colors present that best matched with the three colors in the Fenty Beauty moody palette.
Findings
: Our final solution combines the personalized element we lacked in our previous iterations with technology that allows for a fast and efficient digital application.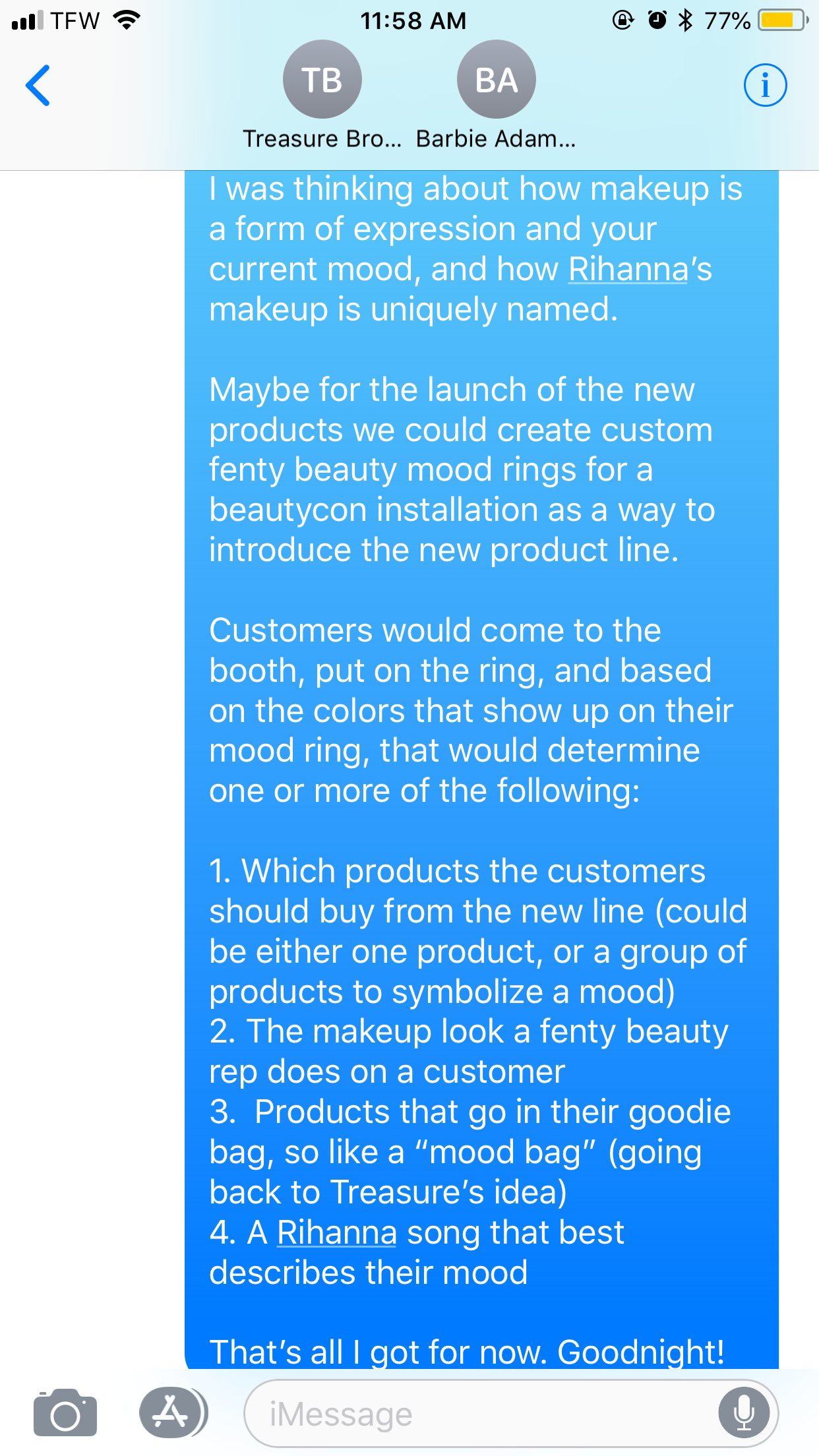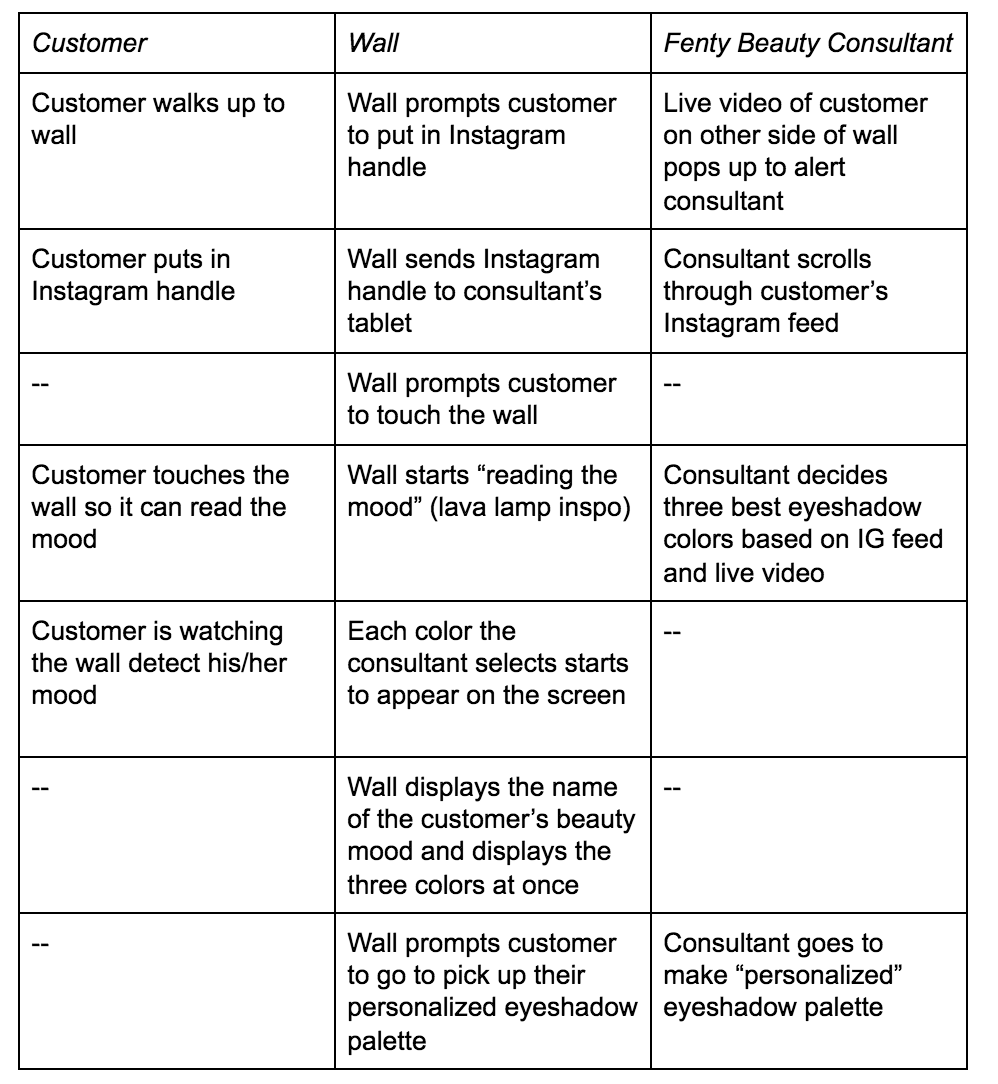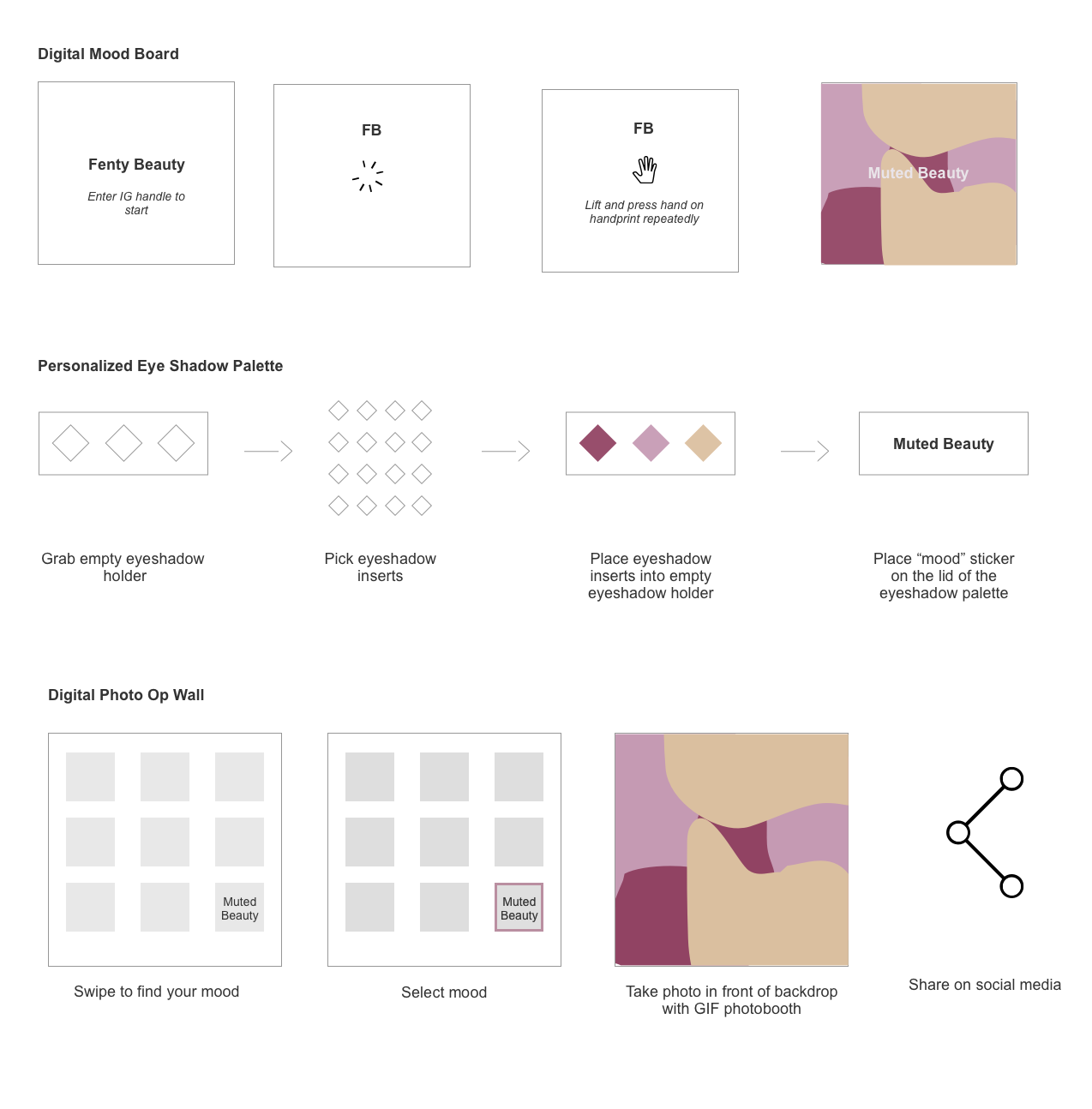 Jessica Fatherly (Experience Designer)
Treasure Brown (Experience Designer)
Barbrianna Adams (Art Director)