A build-your-own soul food experience.
Client Project | 2 Weeks | Service Design
Skills Used:
Research, Opportunity Map, Product Strategy, Concept, UX/UI, Journey Mapping, User Persona
Tools Used
: Sketch, Illustrator, Mintel
I am responsible for conceptualizing how to rebrand and reposition our live client. Initially, our team was going to suggest moving our client to a different location in Richmond due to the level of saturation in the soul food market. However, knowing Pumpkin's Kitchen Cafe hadn't reached its one year anniversary-I knew we'd have to push to develop an effective solution with the resources provided. During my research and observation process, I noticed Pumpkin's Kitchen Cafe only had one waitress. She was responsible for everything besides cooking the food- greeting and seating customers, taking orders, bringing the food out, clearing the tables, and checking customers out. I empathized with the waitress and wanted to make her feel as though she was in control of the room through a limited-service restaurant model. Switching service models would allow the waitress to have a stationary post at the cash register majority of the time. Customers would come to her to for their needs, allowing her to feel like she is doing her job and doing it well, versus being overwhelmed and flustered. Additionally, switching service models would alter the perception of the restaurant's poor customer service.
Aretha Lewis - aka Ms. Pumpkin - has always loved to cook food that comforts and warms your soul. Her passion lead her to grow a catering business out of her home and she put 12 hard years into learning and prospering. After being diagnosed with cancer in November 2017, she made a promise to herself that she would actualize her passion  project if she beat the disease. Miss Pumpkin opened her restaurant in the heart of Jackson Ward in February 2018, just three months after complete remission.
You can't cater to everyone.
Pumpkin's kitchen faced two major challenges. The first was its lack of differentiation in an oversaturated market with two major competitors located within a block of her establishment. These restaurants are Richmond staples with established clientele and a history to prove it. Big Herm's dominates takeout with lines out the door. Mama J's owns the full service space and has wait times of two hours on weekdays. Secondly, as a new family owned business, Pumpkin's Kitchen lacks the infrastructure to support a full service dining experience. The staff is extremely lean. Miss Pumpkin cooks and her daughter manages all front of house responsibility, unintentionally providing poor customer service.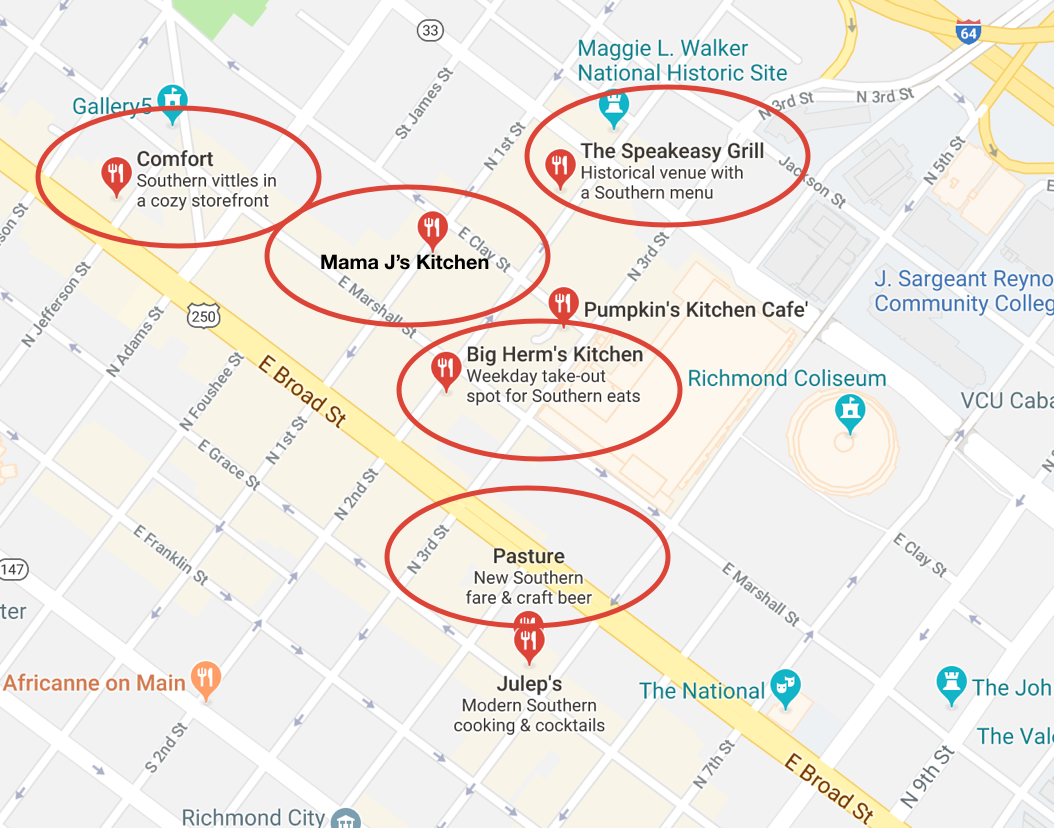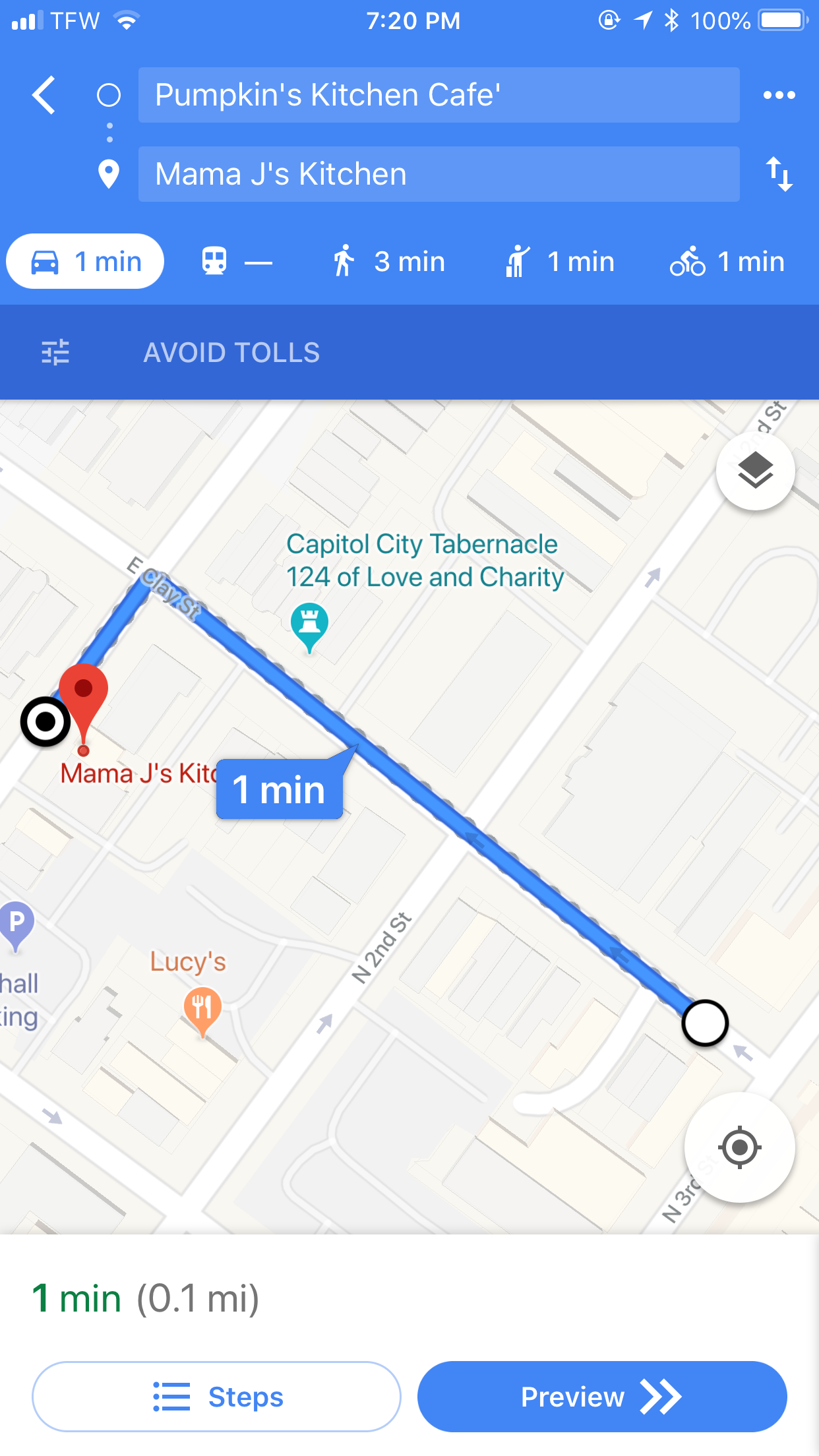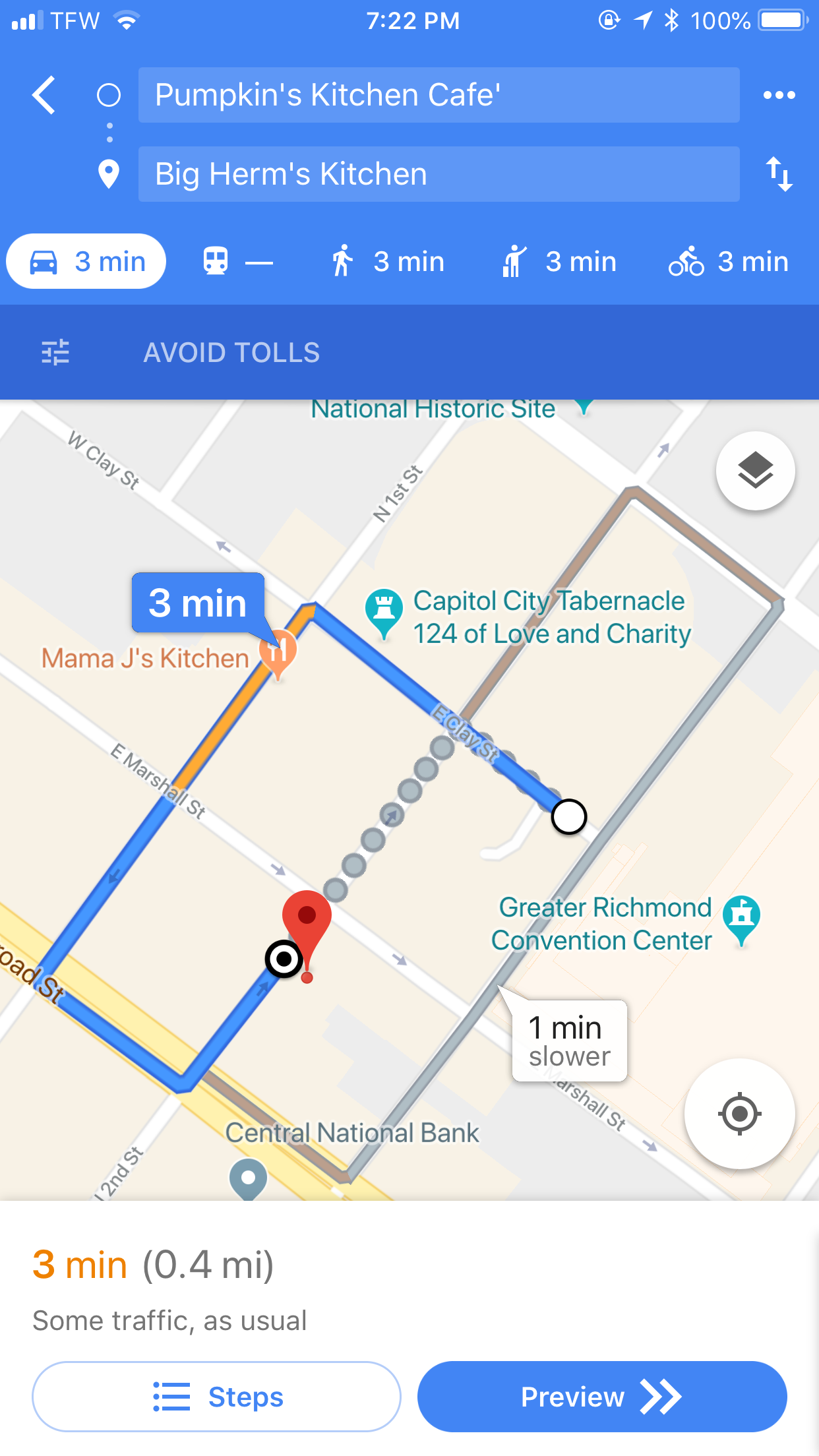 Research proves customers prefer LSR's for their convenience and affordability. 
Pumpkin's Kitchen Cafe needed a business model that effectively made use of its limited staff, while differentiating the restaurant from its competitors. The solution? A limited-service business model. Limited-service restaurants allow customers to order, pay, then eat (think Chipotle or Panera). This model affords a level of convenience and speed that fuels a 3.4 billion dollar industry. This service model empowers Pumpkin's small staff to maintain control of its dining experience. Equally important, this model gives PK the opportunity to fill a white space in Richmond's soul food market.
Insight: Soul-food restaurants have failed to capitalize on the LSR space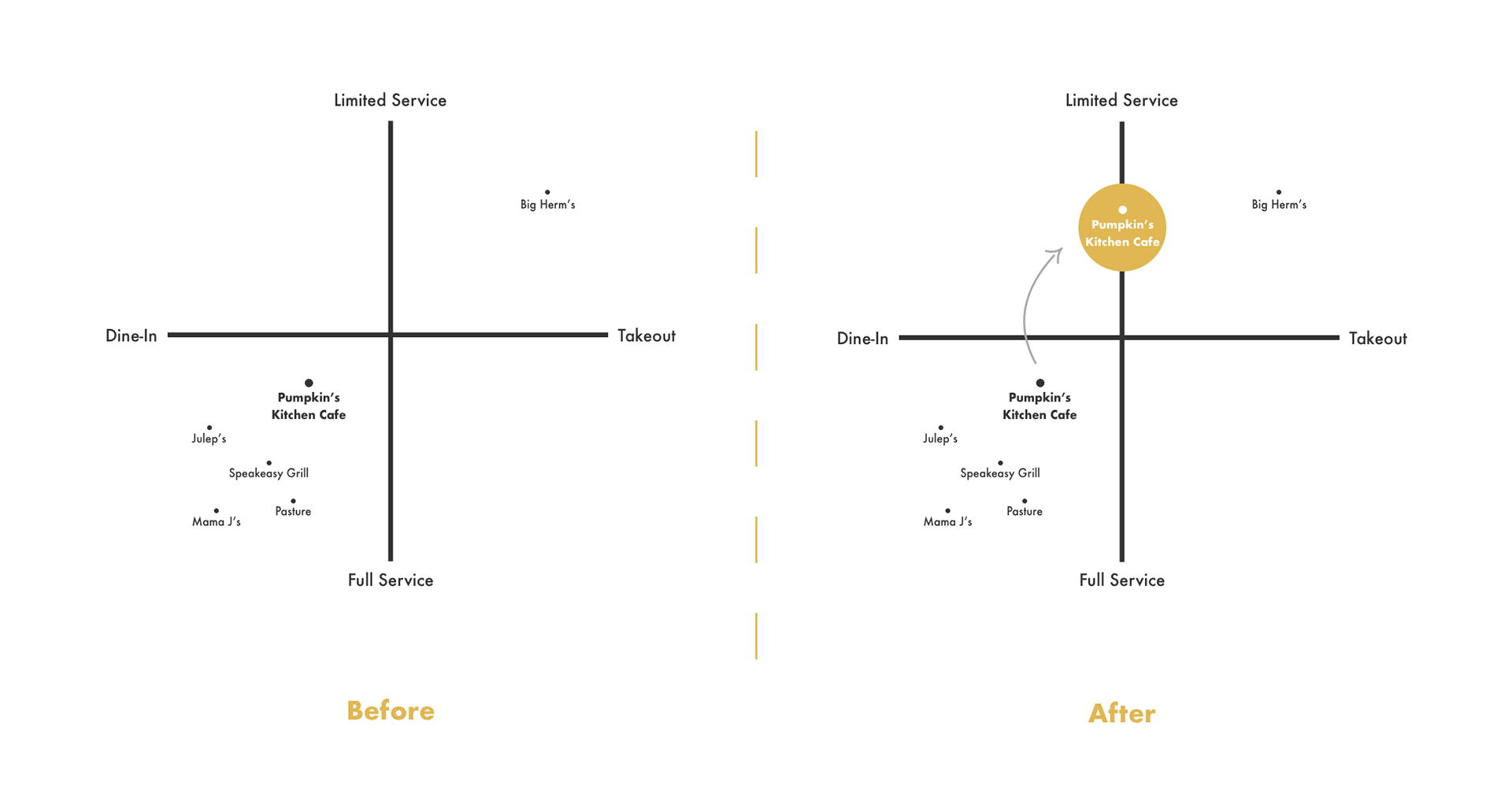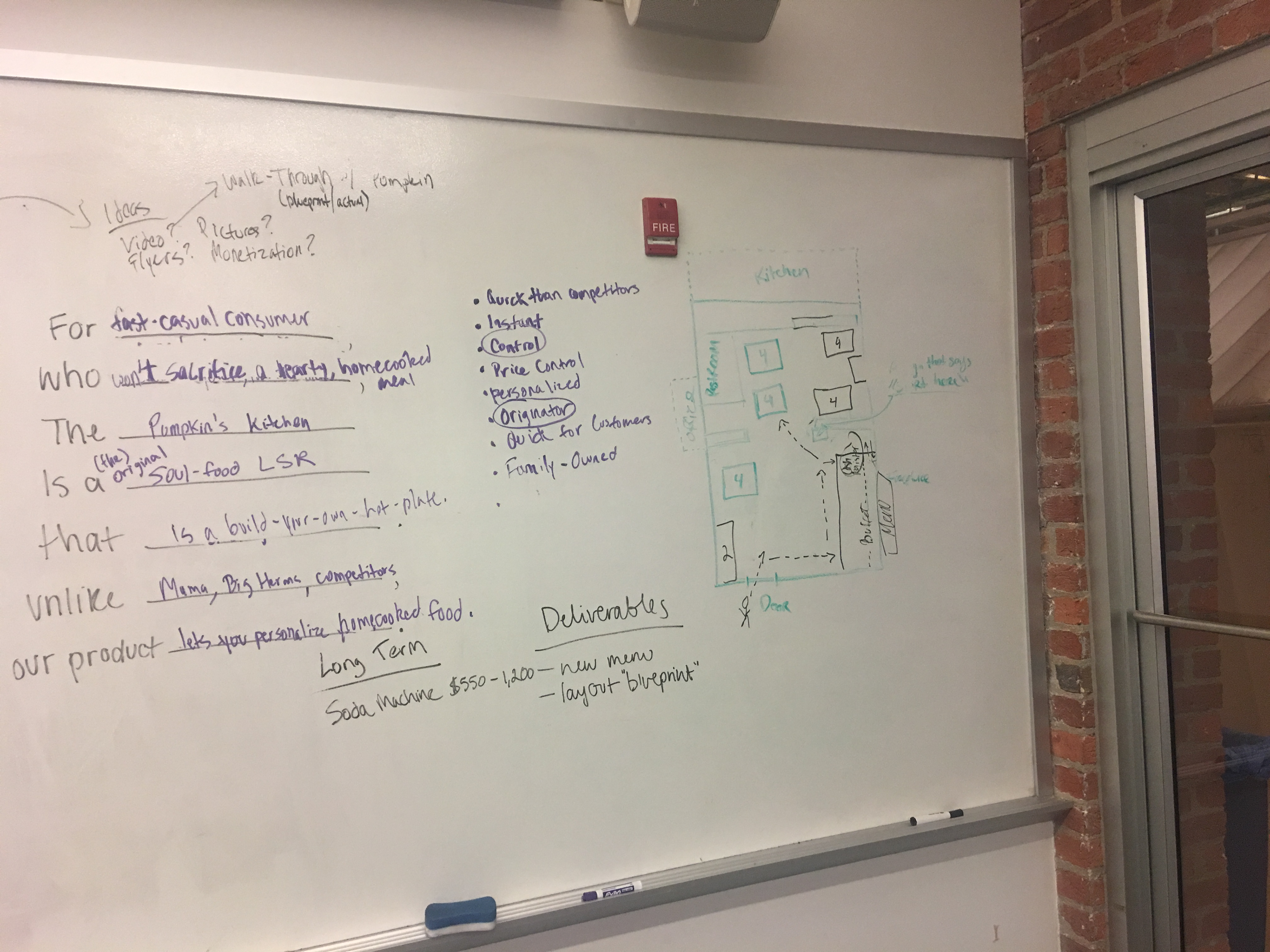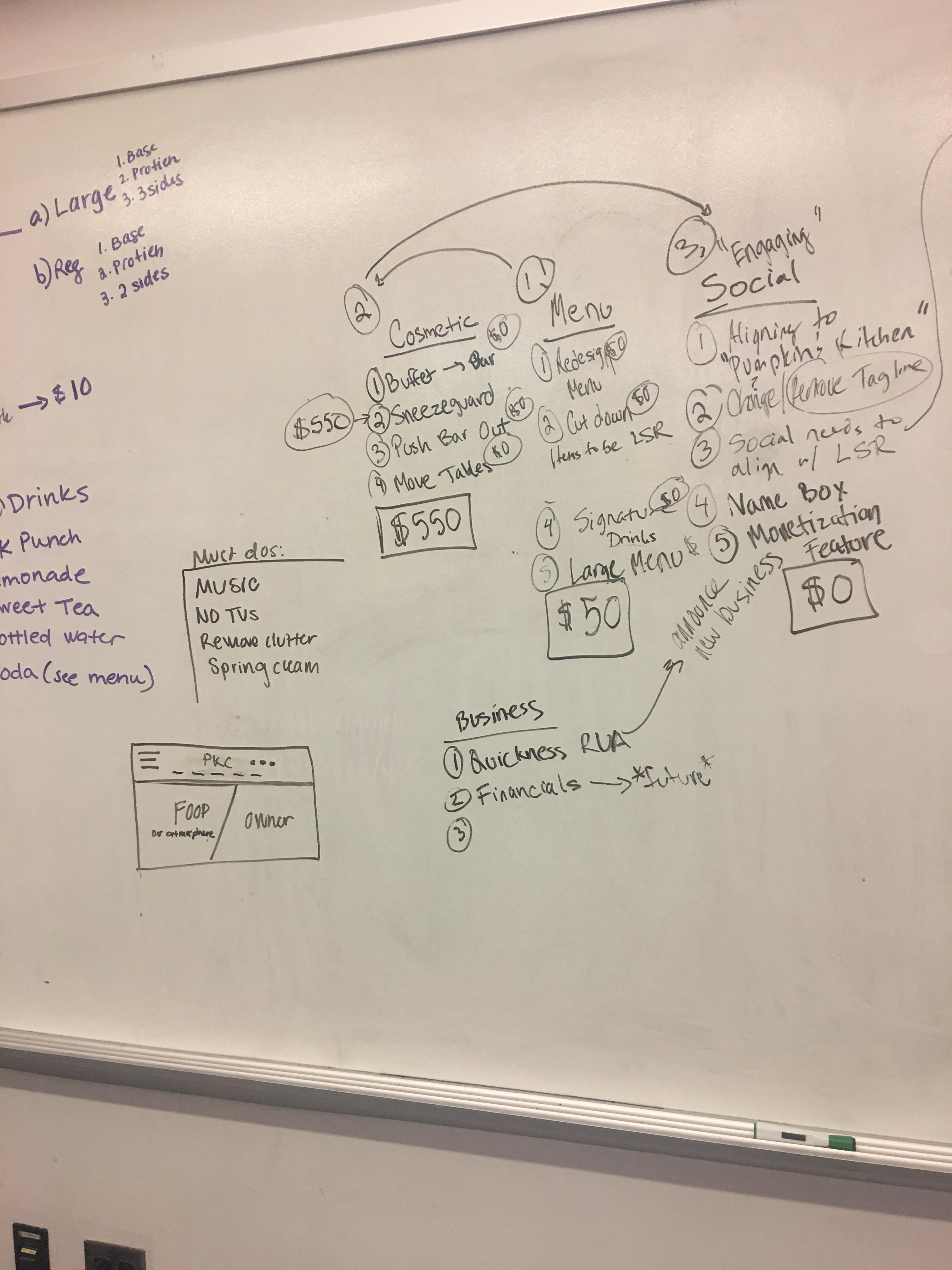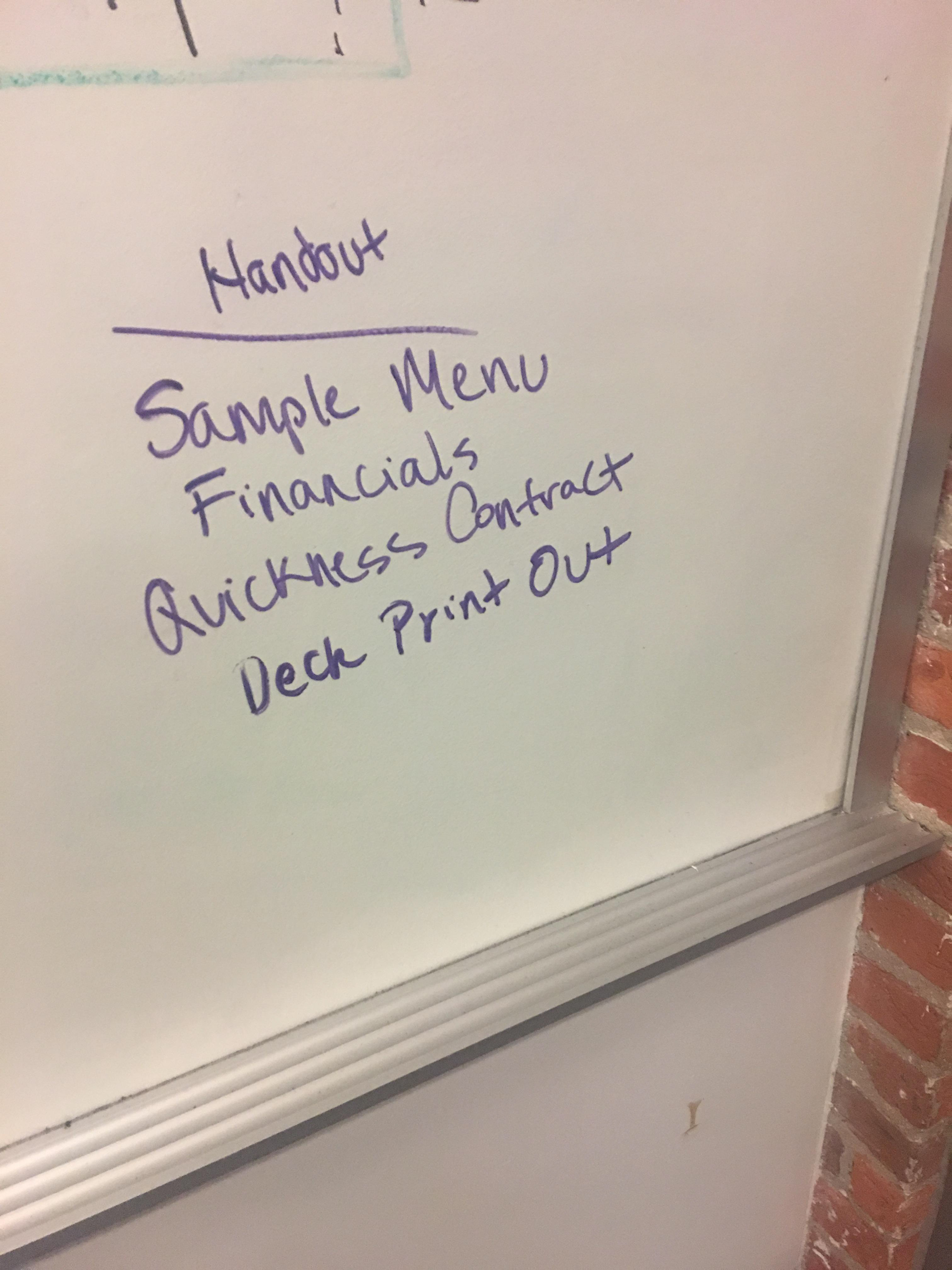 Kendall embodies the target audience we are looking to capture with PKC's new business model. PKC is located near Virginia Commonwealth University's medical campus. With Health Care workers looking for relief in the middle of a lengthy and strenuous day, and making up 30 percent of residents, we saw an opportunity to go after the VCU Health market. Below, you will learn Kendall's story, as well as identify her goals and frustrations when looking for a new place to eat for lunch. Kendall's user journey is mapped to capture when she clocks out from break, her first PKC dining experience, as well as when she clocks back in from break. We assessed her pain points and frustrations, and analyzed her feelings and thoughts in those moments. When studying those inflection points, we were able to develop solutions PKC's new business model could implement to alleviate each negative experience.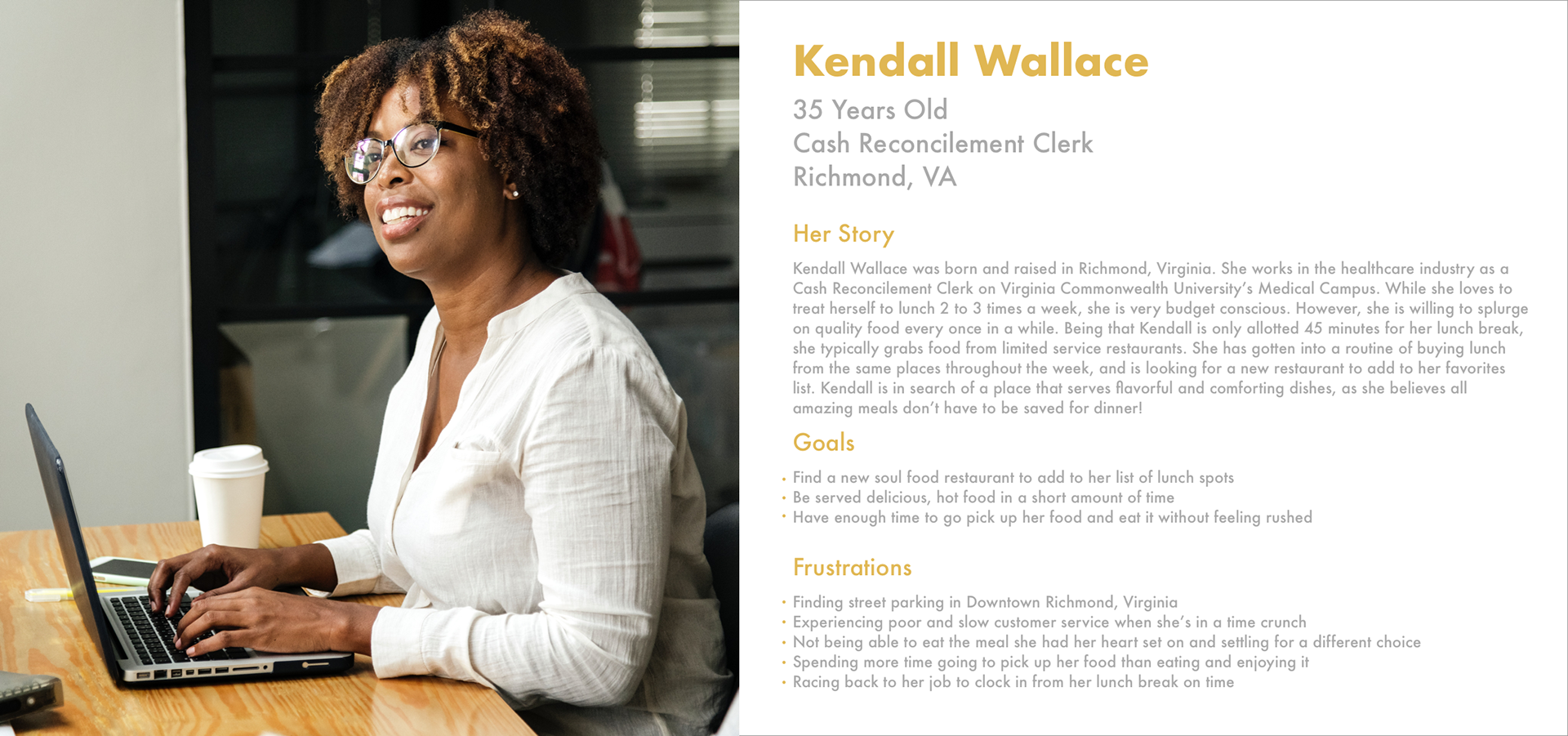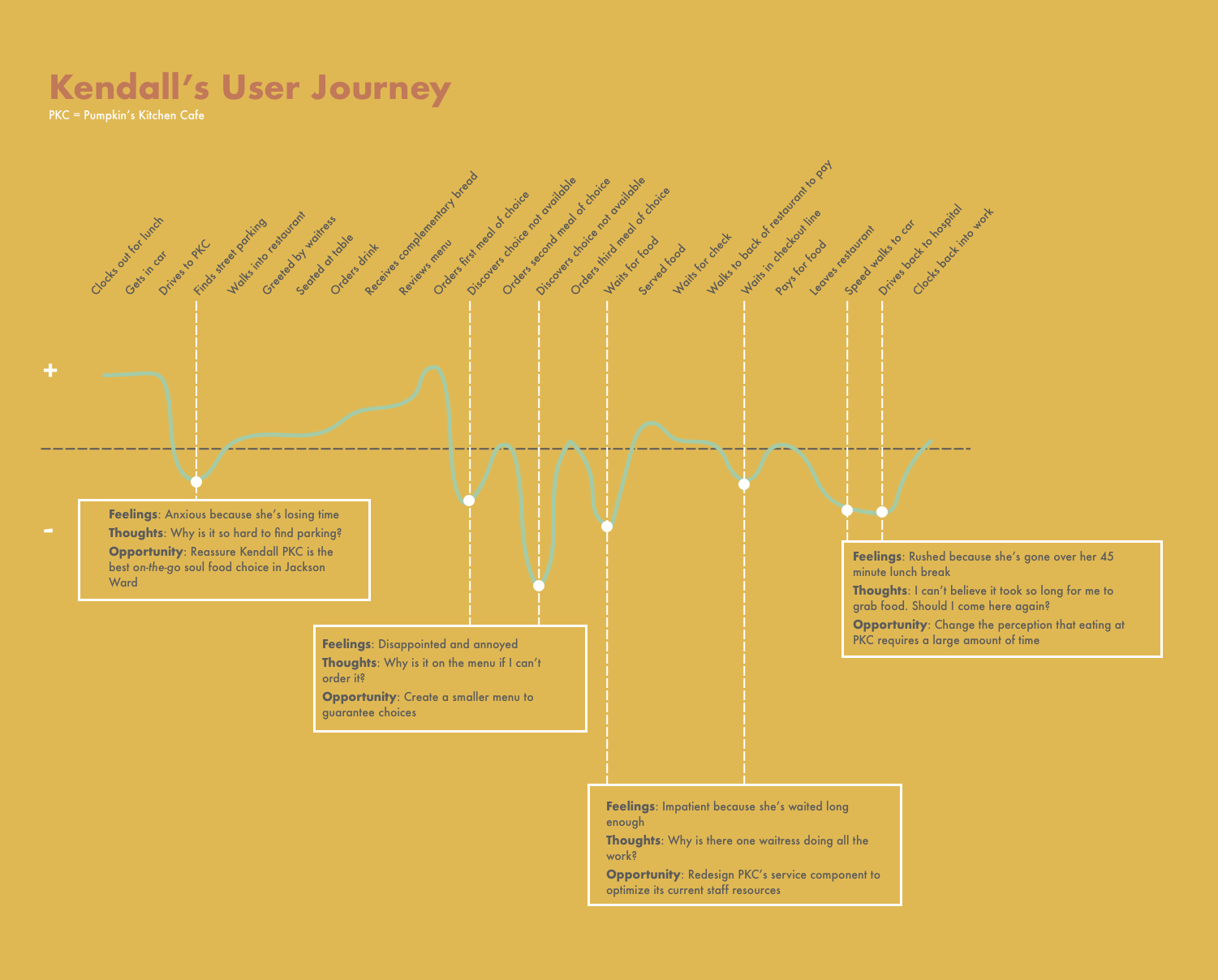 To further improve customer experience and accommodate the new LSR service model, we suggested Pumpkin's Kitchen complete a few interior changes. First, the bar Ms. Pumpkin built herself will be transformed into a makeshift buffet counter until it is within the budget to purchase a refrigerated food well (similar to what Chipotle serves its food from). Next, the tables will be rearranged for a better flow of traffic in and out of the restaurant. Lastly, we suggested a fresh paint/trim and the addition of a large chalkboard menu to hang on the wall.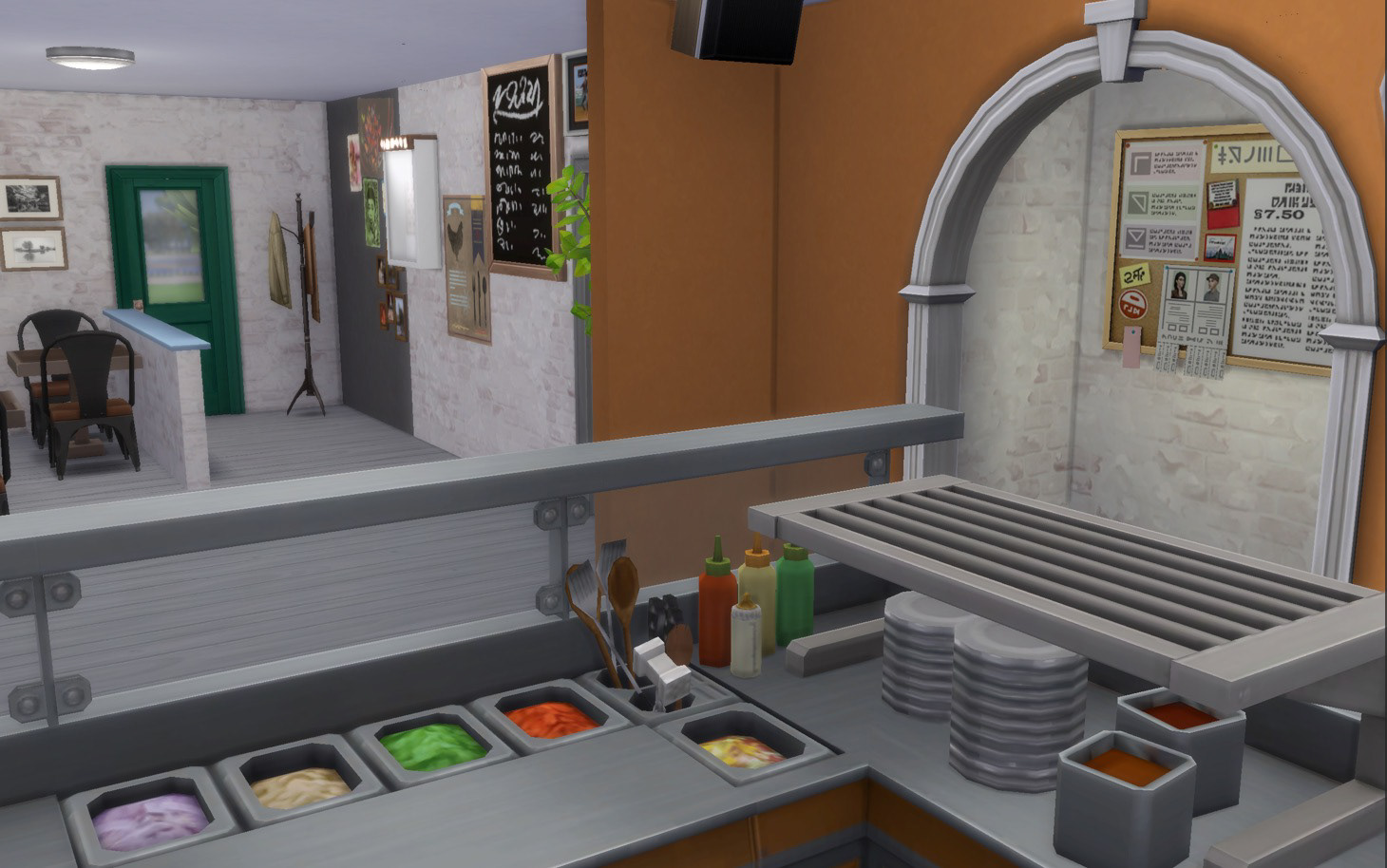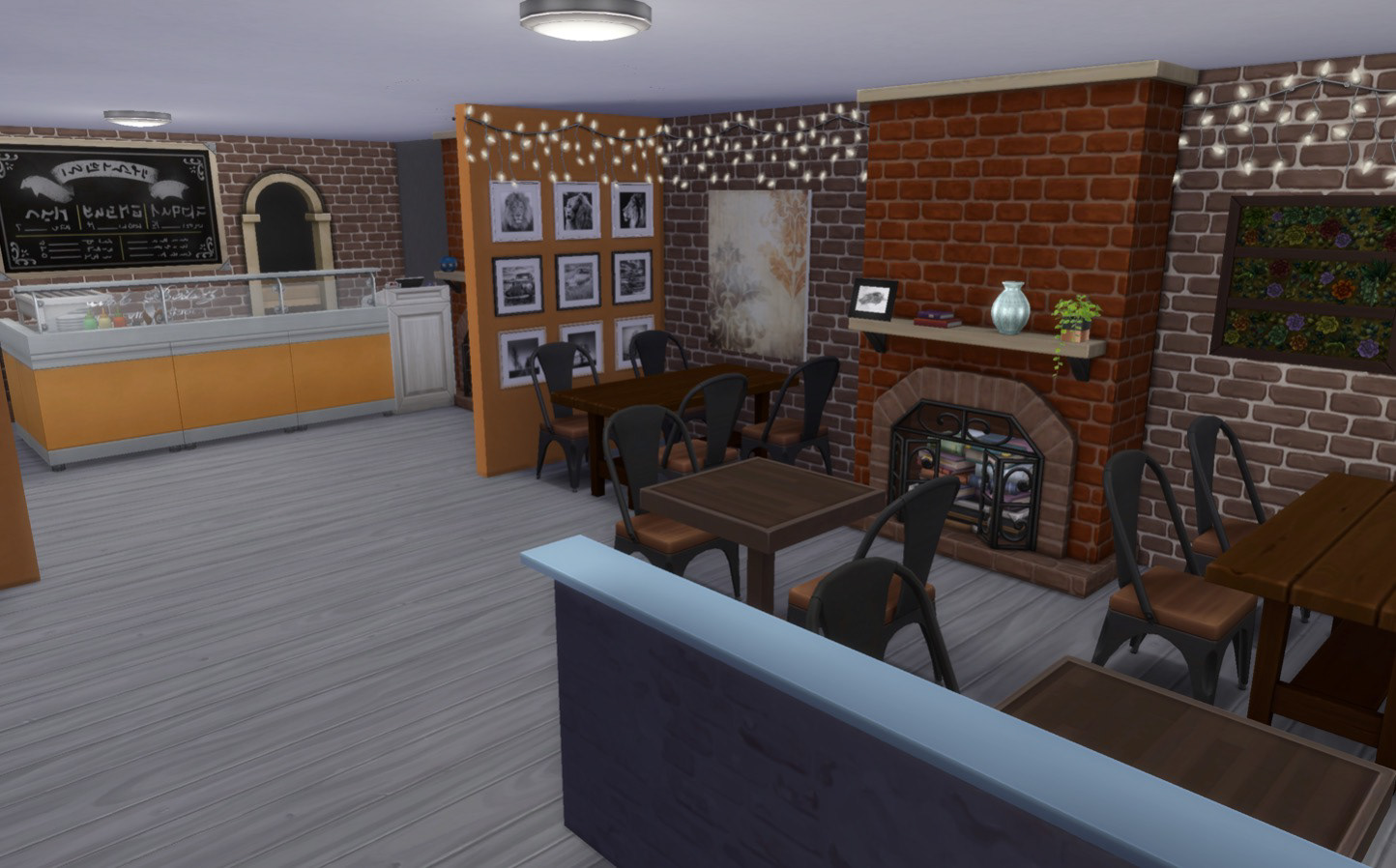 We rebranded Pumpkin's Kitchen Cafe as Pumpkin's Kitchen. In interviews, we found patrons associate "cafe" with coffee or similar beverages. Therefore, we felt it'd be best to exclude the word to avoid ambiguity when classifying the type of restaurant Pumpkin's Kitchen is. The new logo reflects the name change. Additionally, we updated the font families used in the branding from tiny script to bold, attention grabbing san-serif fonts. Lastly, we kept the color palette the same to honor our client's request. The new brand guidelines work together to display the warm, inviting, and comforting qualities behind Pumpkin's Kitchen.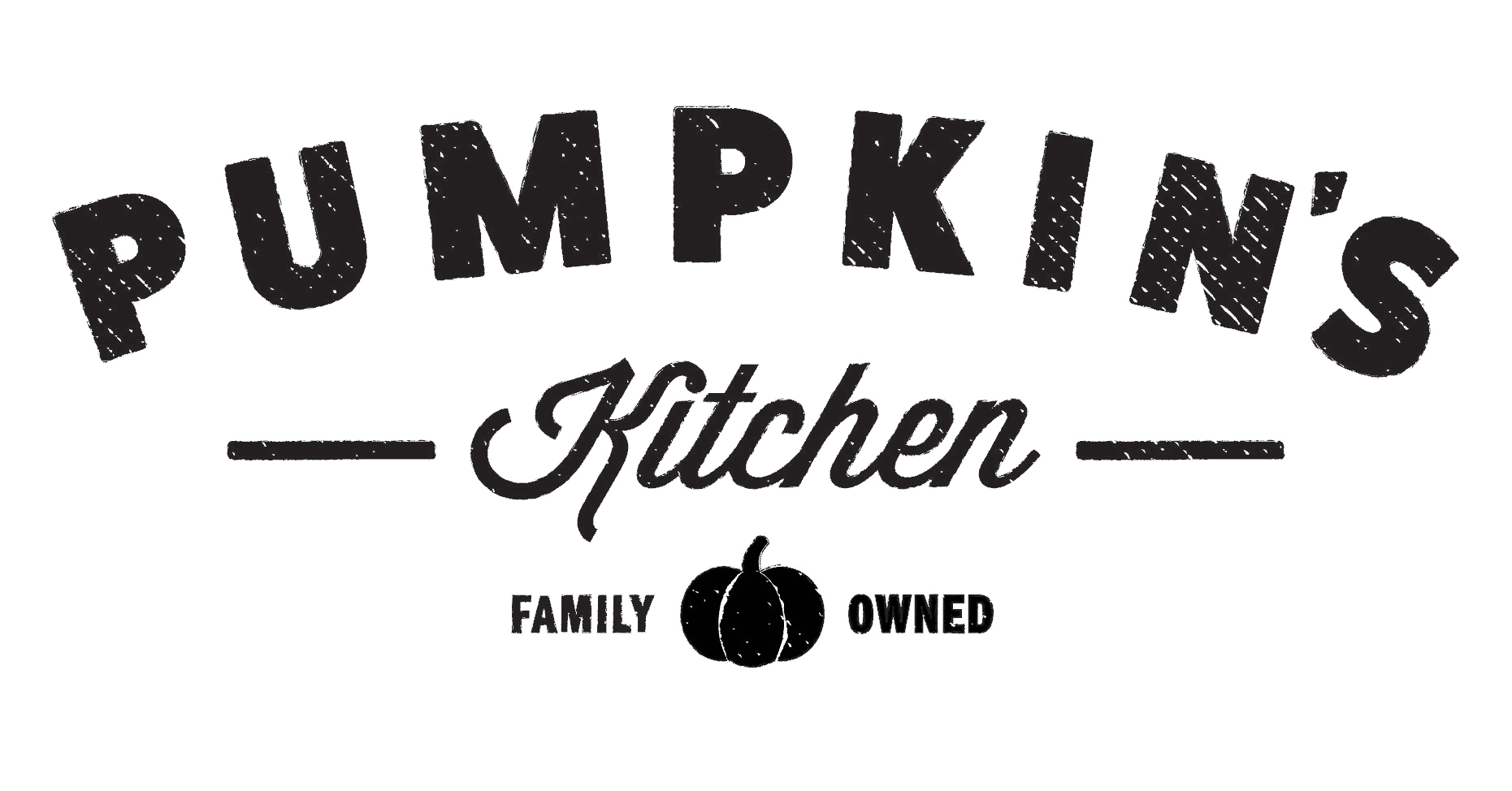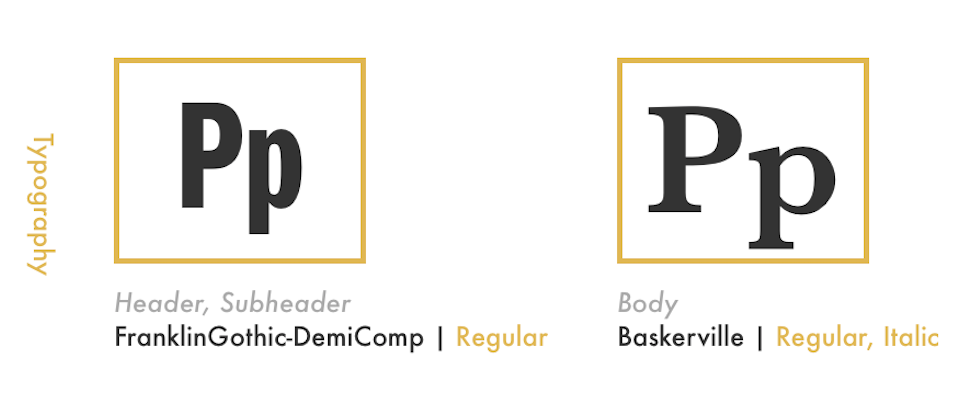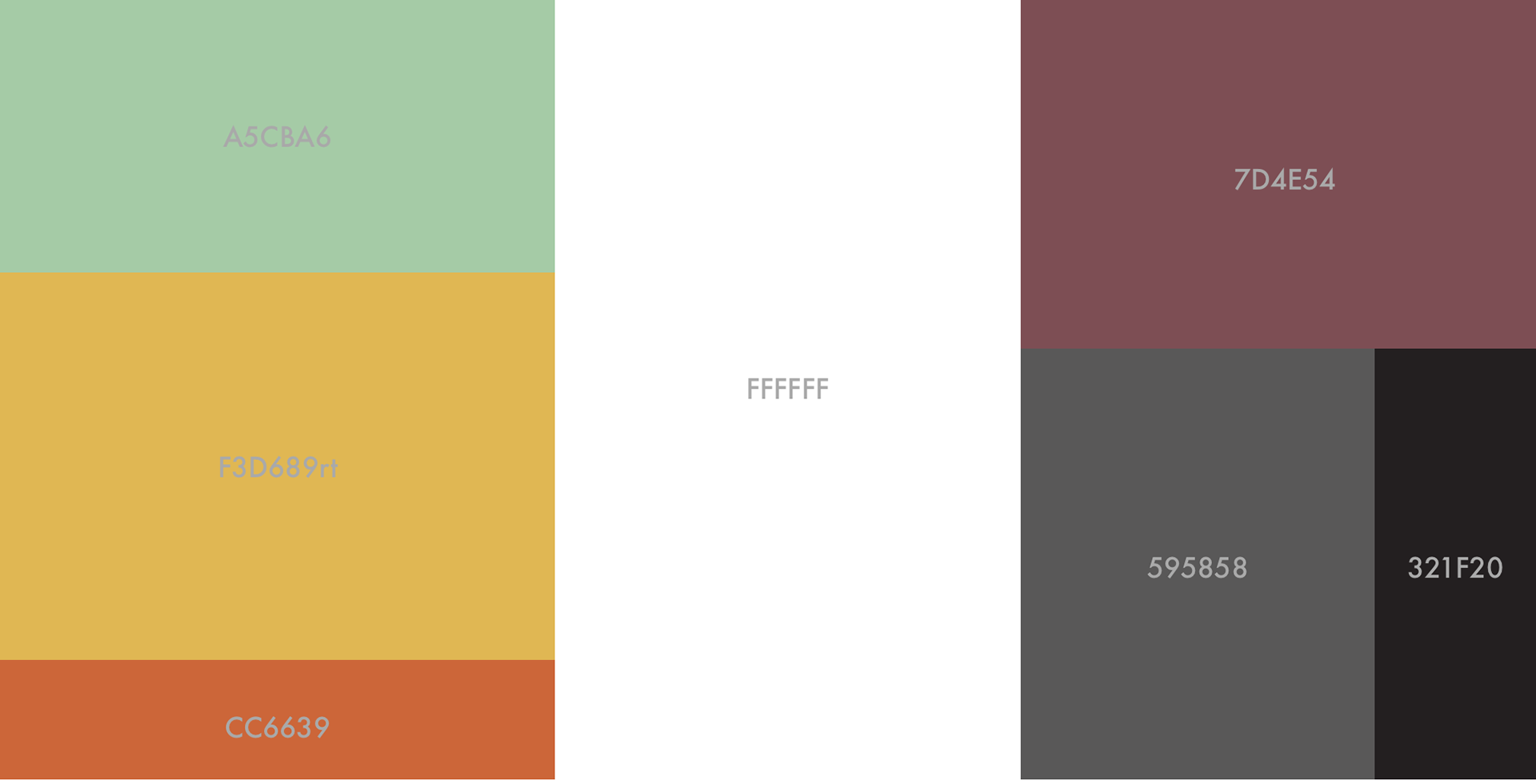 PKC's current menu presented two problems: the menu was difficult to read and the food options were inaccurate. We redesigned the look and feel of the menu and cut down the number of items tremendously. The design transformed from an orange computer paper printout with grey and black text to a beautifully crafted foldable menu. Customers will now be able to order a large or small bowl which comes with a choice of protein, starches, veggies, and sauce to top it off. This will ensure all menu items are available when customers place orders, providing excellent customer service.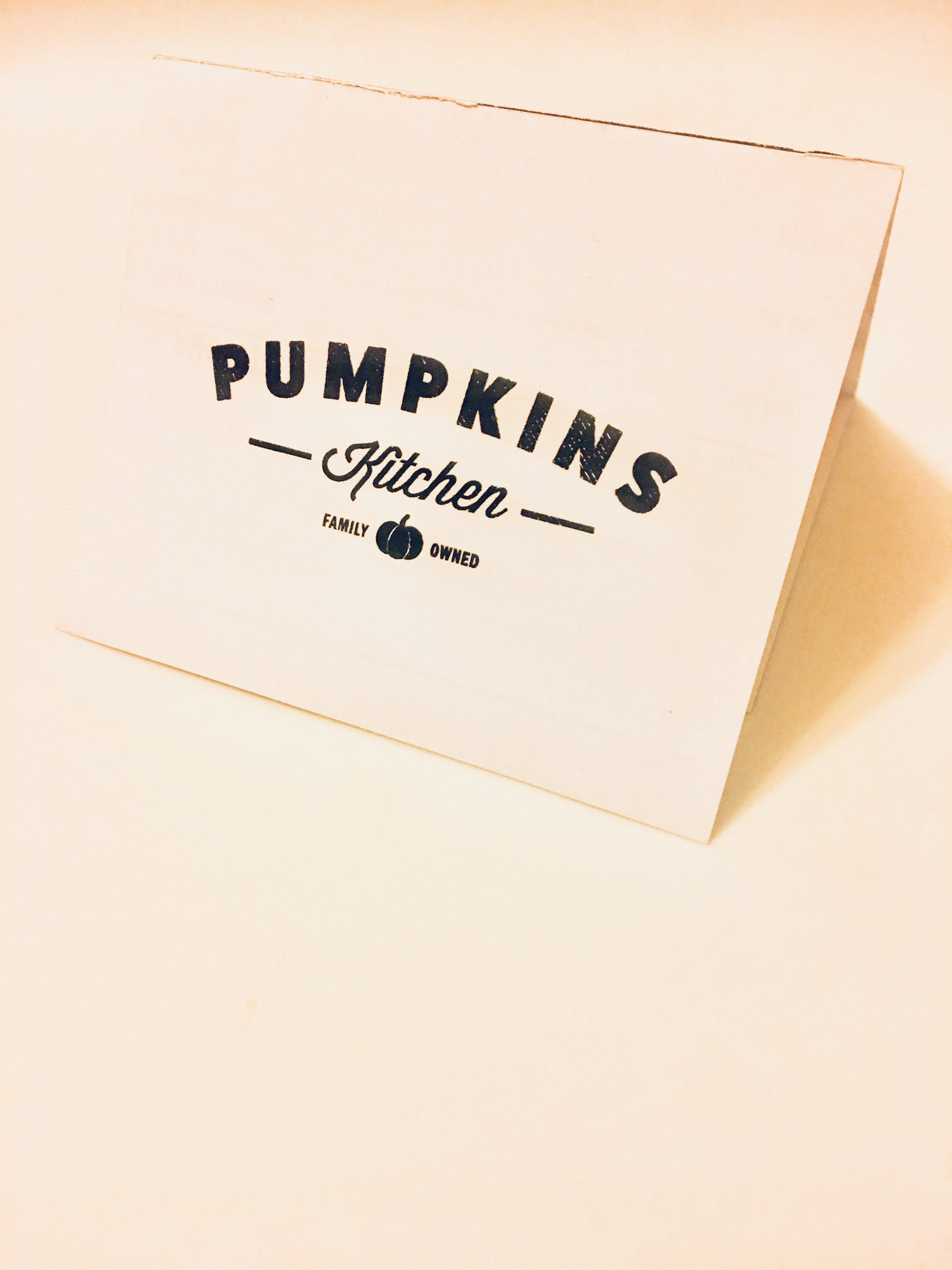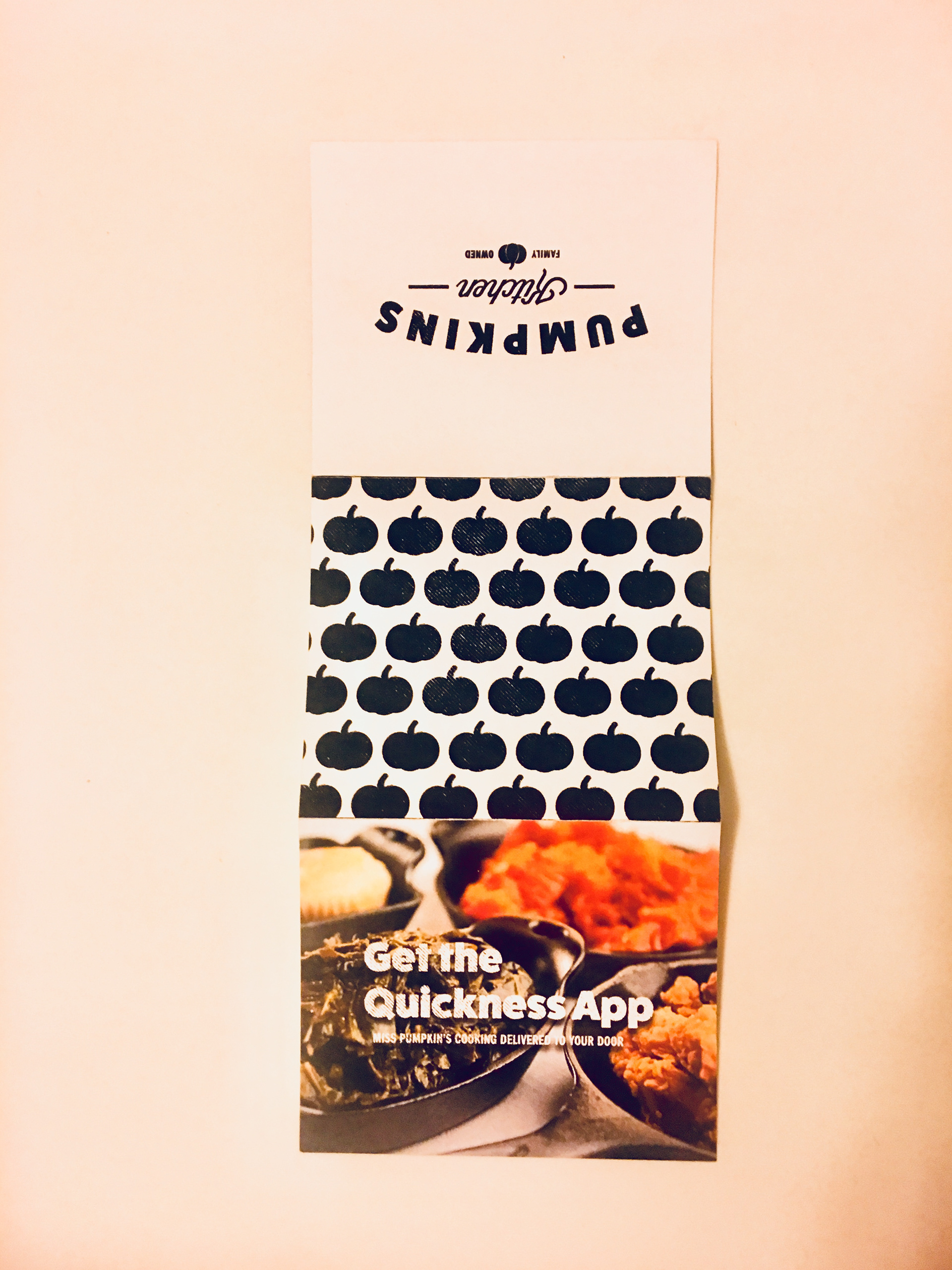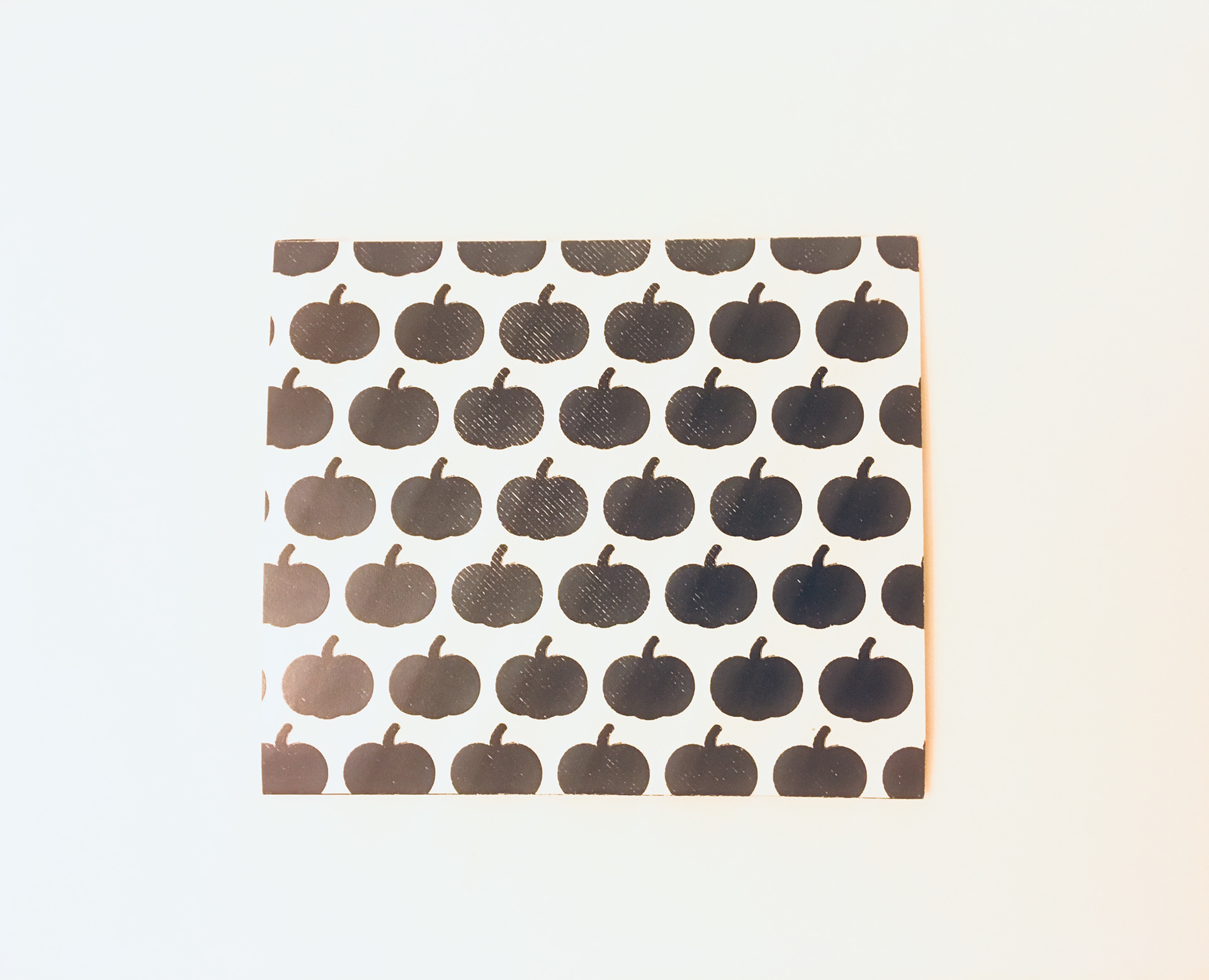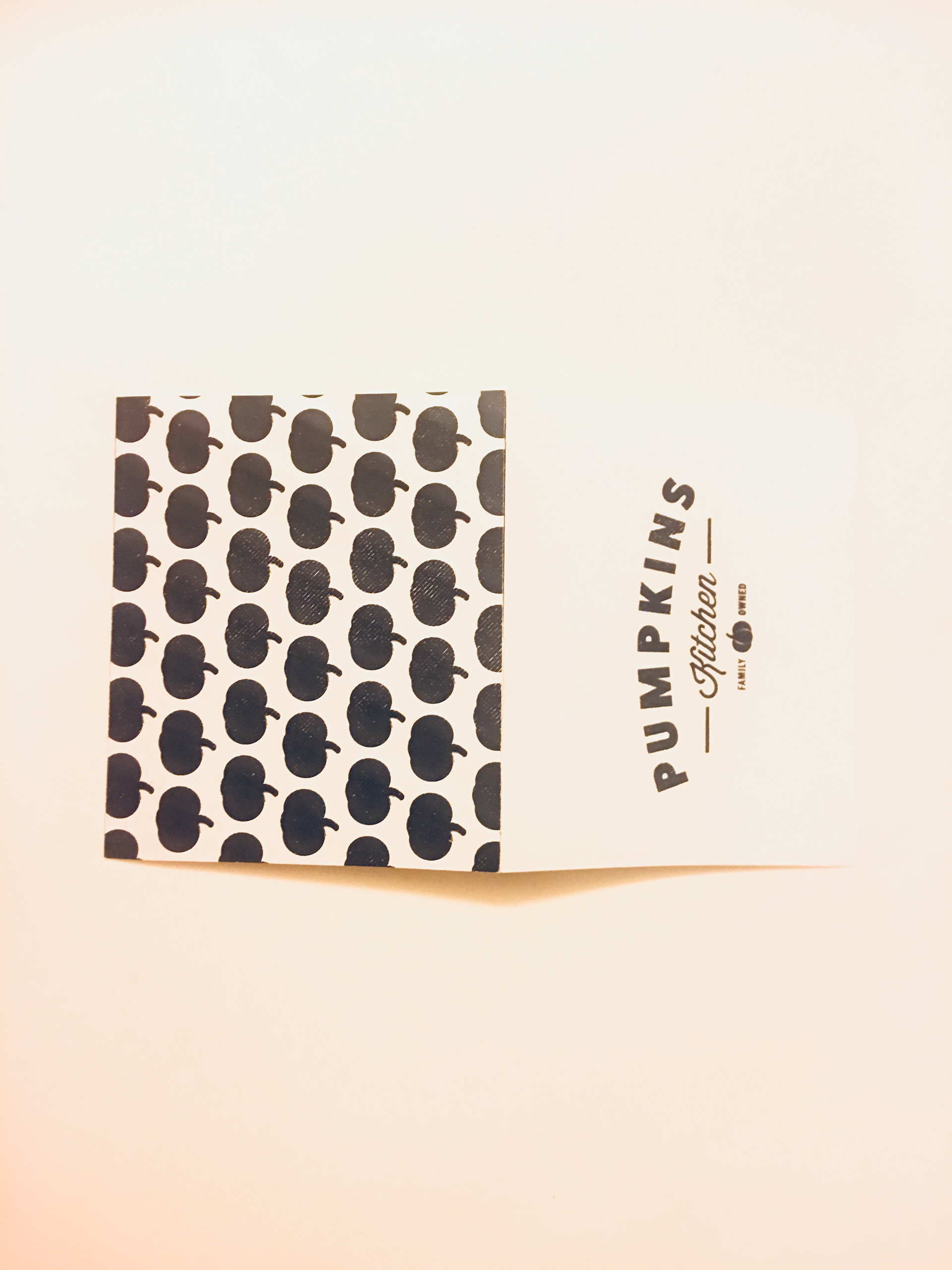 In addition to the new menu rollout, we developed the PK Box. Being that Pumpkin's Kitchen will be the first limited-service soul food restaurant in Richmond, we wanted to do implement an extra layer of brand identity to further differentiate the brand through custom packaging. After each customer finishes building their PK Box, the food will be packaged in a takeout box and sealed with a Pumpkin's Kitchen sticker.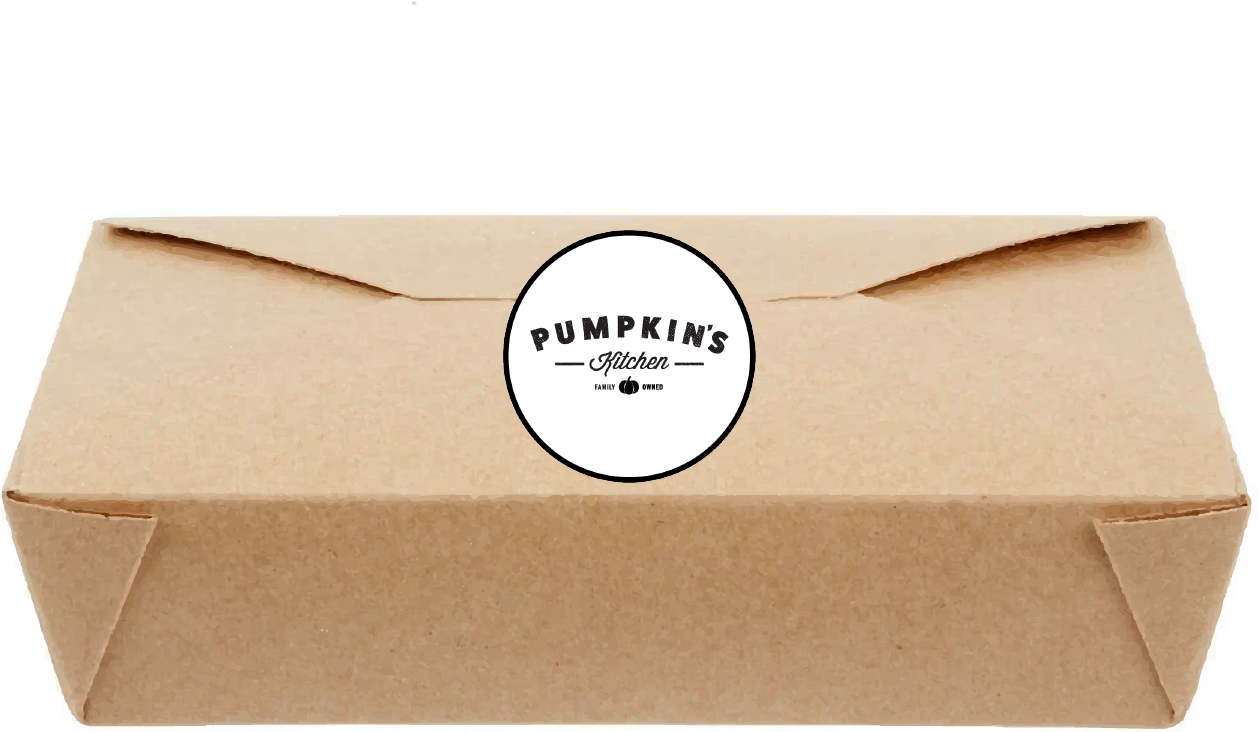 We designed a new website for Pumpkin's Kitchen to reflect the new brand guidelines, increase the level of professionalism, and decrease genericness. The large hero images at the top of the page highlight the delicious food served at the restaurant, sure to grab a customer's attention when navigating to the site. Additionally, the site advertises customers can dine with Pumpkin's Kitchen as they choose whether it be takeout, delivery, or dine in. The menu is easily accessible in the top navigation for those who want to familiarize themselves with the assortment of food served.
Jessica Fatherly (Experience Designer)
Alisha Taylor (Creative Brand Manager)
Katie DiNardo (Art Director)
Caroline Odom (Strategist)
Jeff Dickson (Copywriter)
Severin Didriksen (Strategist)